Roof Washing Kerry
When the exterior walls, floors, or roof of a commercial building or home begins to stain and change colour, the cause is very often organic. Atmospheric moulds, like mildew, are growing on, and in, the surface of your home or workplace, alongside countless other fungi,  bacteria, lichens, moss, and algae which can cause the problem. Organic atmospheric growth causes cosmetic changes of colour and mouldy deterioration, and as well as looking unsightly the deep rooted nature of these unpleasant growths can mean that, left untreated, they cause long term structural damage too. Up until now high pressure cleaning has been the only service treatment option available to get rid of organic growth. This relies on blasting the stain, literally, off the surface. Unfortunately the combination of heat and high pressure required to do this properly can damage surfaces including render, brickwork, guttering, stonework, tiles, roofs, patio, and solar panels. High pressure treatments often leave infecting spores behind too, as the high pressure wash cannot penetrate the surface to eliminate the infection, so a costly clean up is needed again sooner rather than later – often in a matter of weeks.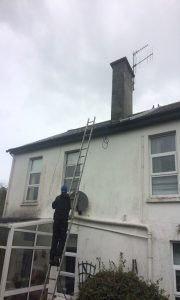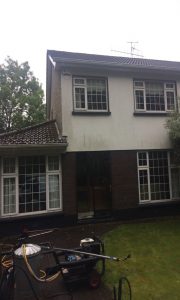 Softwashing changes all this- it thoroughly removes building infections in one treatment in all but the worst cases, without the risk and damage of high pressure. Softwashing is a revolutionary technique pioneered across the USA and EU, using the simple power of chemistry to safely and sustainably remove mould, fungus, and bacterial infections that can blight roofing and building exteriors, as well reverse the cosmetic damage caused by graffiti. Fully approved to the  exacting health and safety standards, Softwashing is scientifically proven to be both a safe and environmentally sound solution to the problem.
We are roof washing are experts and the sanitising removal of both organic and man-made stains from external surfaces. We provide your property with the maximum level of cleanliness and curb appeal. We zap unsightly fungi, moss, red and green algae, bacteria, lichen, pollen, mold and other forms of embedded growth across exterior surfaces without the damage of a high pressure unit. munster softwashing  scientific approach to cleaning while only using quality eco-friendly products specially blended and selected for each individual project. We have studied the science behind building and material maintenance and can therefore identify the exact root causes of growth and discolouration. We kill the spores, without damaging property or harming the environment, by applying our understanding with the latest cleaning technology. We use a custom-made softwashing system comprising of multiple solution tanks and low pressure pumps to clean and rinse at minimal pressures. Our formulas, when used through these systems, deliver remarkable results.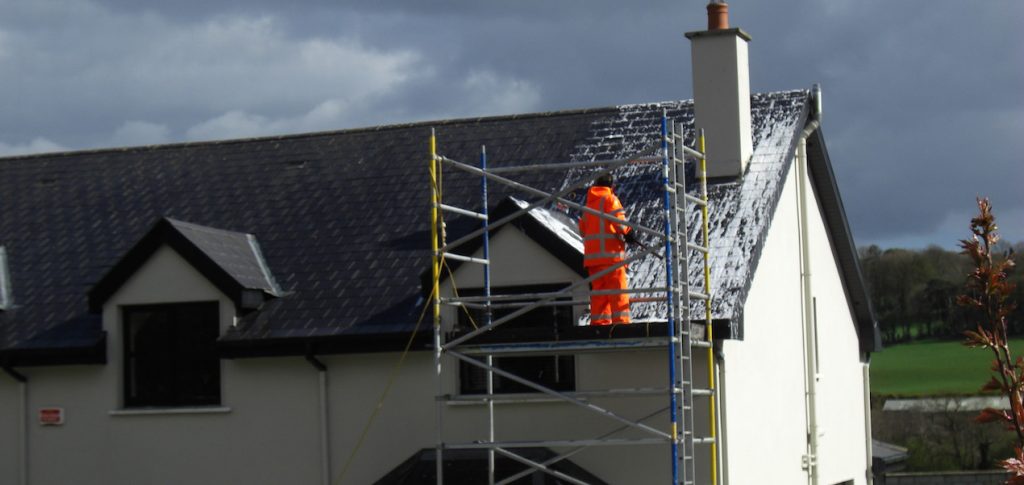 To protect and sustain we only use government approved biodegradable softwash products that are totally Ph neutral and unaffected by either hard or mineralised water. This ensures that a softwash from us can keep surfaces clean for three times longer than old fashioned cleaning methods.  All our processes and operatives are fully Health and Safety regulation compliant for domestic, commercial, and industrial environments. munster softwashing services can produce cleaner buildings, and longer lasting results, at a lower cost. And all of this while being safe and kind to the environment.
We have launched a new department of our business memorials and grave softwashing and maintenance see our webpage on www.cleanersinkerry.com